Faculty-led Study Abroad Programs
Specialized short-term trips with Adelphi faculty as your guides.
Adelphi offers a wide range of short-term programs abroad led by Adelphi faculty during the January intersession, spring and summer. Faculty-led study abroad programs are an excellent way to earn Adelphi credit and study a special topic with an Adelphi professor in a new cultural context. Current and upcoming programs are listed below. Apply early as each program has limited enrollment.
Faculty-Led Study Abroad 2019
The Center for International Education is pleased to offer the following faculty-led study abroad courses in 2019. More detailed program information and application instructions will be available on June 1st. Programs are filled on a first-come, first-serve basis in the order that program deposits are made (not in order of application completed).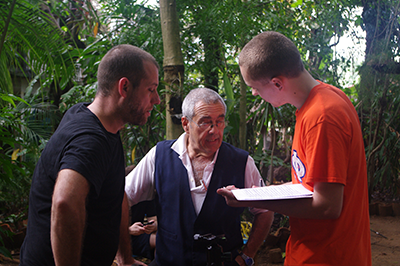 January Intersession
Belize: Marine Ecology Capstone, 4 credits
Botswana: Culture, Health and Healing, 2 credits
China: Traditional Chinese Medicine at Jinan University, 3 credits
Costa Rica: Nursing Service-learning in Costa Rica, 1 credit
Costa Rica: Sustainable Societies: Peace, Human Rights and Development in Costa Rica, 3 credits
England: Experiencing London Theatre, 3 credits
Guatemala: Service-learning in Guatemala, 1 credit
India: Art, Science and Practice of Management, 3 credits
---

Spring Break/Spring Semester
Cuba: Social Movements, 3 credits
England: Literary Cities: Gothic Cities, 3 credits
Finland: Finnish Innovation in Politics and Business, 1 credit
Norway*: Place-Based Learning, 3 credits
Spain: Social Movements, 3 credits
*This course is in development and not confirmed.
---

Summer Programs (applications will open in fall) 
Australia: Tropical Ecology and Environmental Threats, 3 credits
Greece: Archaeological Anthropology in Crete, 4-7 credits 
Italy: Multicultural Issues in Counseling in Orvieto, 3 credits
Poland: Summer Chemistry Research Program at Warsaw University, Poland  (contact Professor Justyna Widera, Associate Professor, Department of Chemistry, for more information)
Archaeological Field Methods in Alaska (contact Professor Brian Wygal, Department of Anthropology, for more information – bwygal@adelphi.edu)
» Search programs led by Adelphi faculty
PAST PROGRAMS
Intersession and Spring Break 2018
Experiencing London Theatre
Nursing Service-Learning in Costa Rica
Service-Learning in Guatemala
Social Work in a Global Context (Mumbai, India)
Art as a Tool in a Post-Conflict Setting (Kosovo)
Summer 2018
Adelphi in Crete: Archaeological Anthropology in Crete
Experiencing the Renaissance in Florence, Italy
Multicultural Issues in Counseling in Orvieto, Italy
Social Problems and Policy Solutions Across Japan
Summer Chemistry Research Program at Warsaw University, Poland  (contact Professor Justyna Widera, Associate Professor, Department of Chemistry, for more information)
Dinosaurs and National Parks (U.S. based summer field course in Wyoming; contact Professor Michael D'Emic, Assistant Professor, Department of Biology, for more information – mdemic@adelphi.edu)